Fire Tonic - Cider Immune Tonic
Fire Tonic - Cider Immune Tonic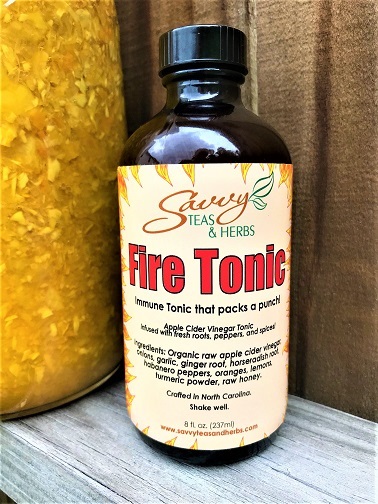 Fire Tonic is a folk remedy that has been used for many generations to strengthen immune health, ward off infections, improve digestion, circulation, relieve sinus congestion and much more. It restores, stimulates, and invigorates the body!
Organic, raw apple cider vinegar is infused with powerful and spicy foods and herbs to create an immune tonic which packs a punch! It has a spicy taste with a hint of tart and sweet. A very strong flavor!
Ingredients

: Organic raw apple cider vinegar, onions, garlic, ginger root, horseradish, habanero peppers, oranges, lemons, turmeric powder, raw honey.
Comes in an 8 oz. reusabIe glass bottle.
Can be taken straight, or mixed with water, seltzer, tea, or juice. Mix with olive oil, Dijon, and herbs for a salad dressing, use to marinate meats or seafood, use in place of a vinegar in recipes, etc. If you want it a little sweeter, you can add more honey.
Directions

: Shake well. Take 1-2 Tablespoons as a health tonic every morning, or as a pick-me up to restore energy throughout the day. If you feel under the weather, take 1-2 T. every few hours to ward off sickness and boost immunity. Best if used within 12 months of purchase. No need to refrigerate. Store tightly capped in a cool, dry place.
So how is this Fire Cider health tonic and homeopathic remedy good for you?
Horseradish

is known to be effective against the flu and common cold, tonsilitis, respiratory disorders, urinary tract infections, and pathenogenic fungus.
Ginger

is used to treat arthritis, muscle pain, upset stomach (motion and morning sickness and general nausea), gas, upper respiratory tract infections, and cough.
Onions

are used to boost cardiovascular health, bone and connective tissue benefits, and as an anti-inflammatory agent.
Garlic

is used to treat high blood pressure, high cholesterol, coronary heart disease, heart attack, atherosclerosis, asthma, building the immune system, help level blood sugar, and is used topically to treat fungal infections.
Habanero peppers

boost your metabolism, and offer headache, sinus, and arthritis relief as well as releasing endorphins.
Oranges

are great for heart health, as part of a best-case-scenario-anti-cancer-diet, fighting cholesterol, to help in weight loss, and to break up or prevent kidney stones.
Lemons

are known to aid in digestion, treat colds and flu, improve the function of blood vessels, and reduce inflammation and retention of water.
Turmeric

reduces carcinogenic compounds in other foods, makes cancer cells more vulnerable to chemo and radiation, inhibits the growth of malignant melanoma and breast cancer, and alleviates arthritis symptoms and skin conditions. Turmeric has been shown to exhibit antioxidant, anti-inflammatory, antiviral, antibacterial, antifungal, and anticancer activities and thus has a potential against various malignant diseases, diabetes, allergies, arthritis, Alzheimer's disease and other chronic illnesses.
Raw apple cider vinegar

(not plain old cider vinegar!) is known to be a good source of acetic and ascorbic acid (Vitamin C), mineral salts, amino acids, and other key components of good nutrition, but it is also a well-loved folk remedy thought to ease digestion, supports weight loss, balances pH, fight obesity and diabetes, and wash toxins from the body.
Raw honey

is a fantastic, all-natural fighter of seasonal allergies. It's also full of vitamins and minerals, anti-fungal, anti-viral, and makes a great, non-narcotic cough suppressant and throat soother.