Herbal Tinctures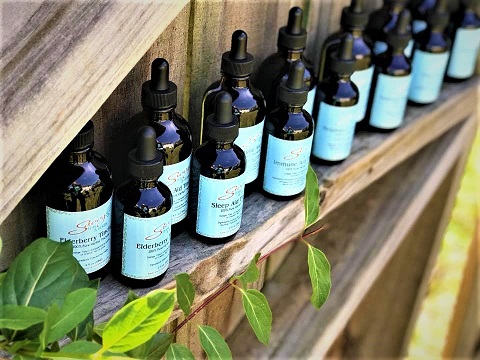 Herbal Tinctures are strong medicines that are much more potent than teas or even taking the herbs straight. Through the process of extraction, the properties of the herbs are pulled into the medium, to make a very effective medicine. Tinctures are easy and convenient to use, and much less is needed to be effective, in comparison to a tea. Also the body will react quicker to a tincture.
Using the traditional process that is over a hundred years old, our tinctures are carefully prepared by hand and have no added or artificial ingredients, colors, or flavors. They steep slowly for over a month to maximize extraction of the plant material.
Our tinctures are made with love and in small batches so that they come fresh to you! They are also made with our herbs which are never sprayed or irradiated.
We use an 80 proof alcohol because alcohol is an excellent medium to extract most herbs. Alcohol mediums pull out nearly all of the plant's beneficial compounds which increases the effectiveness of the tincture.
Alcohol also keeps the tincture shelf-stable for many years.
Our tinctures are "extra strength" not like the watered down and dull products found on the commercial marked today. We think you'll notice a difference with our tinctures.
The tinctures contain 40% alcohol. If desired, you can dissolve the alcohol by mixing your dosage with hot water or tea.

Your tinctures will come in a reusable 2 oz. or 4 oz. glass dropper bottle. No need to refrigerate - the alcohol acts as a preservative and will last for years.

*Our remedies are formulated for people who do not have any medical conditions and are not taking any prescription or over-the-counter medications.

*Please consult with your doctor if you have ANY medical conditions, allergies or are taking ANY medications (over-the-counter or prescription), as herbs can have an effect on medications and some herbs should not be taken if you have certain medical conditions.

DISCLAIMER: We do not make medical recommendations or healthcare claims about our products. Information and statements regarding our products have not been evaluated by the FDA. The information provided is for reference purposes only and are not intended to substitute ANY advice given by another licensed health-care professional. We do not advise using the information in this listing to self-diagnose and advise contacting your health care provider immediately if you suspect that you have a medical problem.
Consult a health practitioner before using these products if you have any serious medical conditions, are pregnant, lactating, or taking any medication.